B

I

G

S

A

L

E

S
100% BRAND NEW
All Tee Shirts brought back from Hong Kong
Length approx @ 60-62CM (Adjustable Length, very stretchable cotton)
Bust : Max 100CM + (Superb stretchable cotton, adjustable)
Best Fit XS S M L and Big L
MLF Paul Frank Ladies Tee Shirt
Free Size, Best Fit XS S M L
MLF Sexy Sweethearts Deep V Collar Long Sleeves Black Dress
High Quality, Stretchable
Bust: 70-95CM
Waist: 65-78CM
Hips: 70-98CM
Length: 78CM (Can further strengthen)
★MLF 559 ★ Smock High Waist Studded Laces Tube Top
Size : Free Size
Length: 58cm长(Exclude Sraps Length)
Bust : 32-50cm
Waist : 30-45cm
Best Fit : XS S M L
Slimming Effect! One of our favorite!
Looks Slim with this top on!
High Boutique Quality
Summer Soft Yellow Flowery Rhinestone Tee
Free Size
Brand New
Best Fit : XS . S . M . L
MLF 605 Batman Sleeves Slimming Effect Blouse
High, comfy and superb stretchy quality
Free Size, Best Fit S,M,L,XL ++
MLF 644 Lacey Floral Shorts / Skorts (Plus Size)
Color : Grey
Material : Cotton (Superb Comfy!!!)
Best Fit : L XL XXL + (UK12-16)
Waist - From 33 to 38inches, Hips - From 40 to 46inches,
Length - 18.5inches
Good quality ultra soft and ultra stretchable cotton jersey mixed with tiered floral lace, fully smocked waist band, flare cutting, 100% not sheer!!
MLF Moustache Logo Long Sleeves Black Top
Featuring a collar neckline
A placket button to the front
with sewing black hat and funny moustache
Material: Imported Shirt Cotton
MLF Vintage Blue Collar Stripes BF Tee
MATERIAL: QUALITY CHIFFON
SIZE: FREE, Best Fit S M L XL
MLF Vintage Colorful Gemstones White Top
Material : Cotton
Bust : 96 CM
Length : 68 CM
MLF Fashion America Starry Sexy Jeans Shorts (Wide Thighs)
Low Waist : 34", Hips : 42", Thighs: 23" Length: 10"
Suits for big thighs babes, slim effect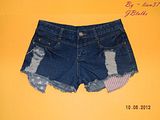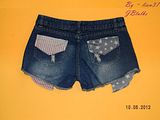 MLF Basic Scallop Bottom Dress
100% Quality Guaranteed
Not Sheer, can wear alone OR mix n match with other dresses
Free Size, Very Stretchable, Best Fit : XS S M L XL ++
Bust : 76-120 CM, Length : Adjustable, 79-84cm
Color : Black only, white sold out
MLF Polka Dots Sleeves Vintage Loose Blouse
Bust : Up to 104cm
Length : 65cm
Free Size
Color : Blue / Black / Orange (Last piece)
MLF Vintage Polka Dots Top Blouse
*Must Have Color n Design*
Color : Orange (last pc)
Free Size, Best Fit : S M L XL
MLF Pink Stripes Singlet Dress
*High Quality, Free Size*
Best Fit XS, S, M, L ++
*Two Ways wearing, front zip or back zip*
MLF Peterpan Collar Vintage Blouse
MLF Sweetheart Square Collar Laces Dress
Material : 100% quality cotton + laces
BUST: 80-94CM
WAIST: 58-82
LENGTH: 83CM
MLF Europe Style Trendy Loose Color Top
Color: 100% High Quality Comfy Cotton
Color: Pink
Bust: 128CM, Length: 53CM, Bottom: 132CM
MLF Colorful Rainbow Lycra Top Dress
*Quality Piece, Adjustable Length, Highly Stretchable*
Free Size, Best Fit XS , S , M , L
MLF Laces Peterpan Collar Dots Dots Chiffon Top
Material : High Quality Chiffon
Free Size
Bust : Up to 92CM
Color : Orange Only
MLF Mini Polka Dots Blue Long Sleeves Shoulder Off Top Dress
Free Size, No limit for Bust & Waist
Fit Petite to Plus Size, Pregnant Woman
MLF Round Neck Stripes Dress
Length: 30", Bust: 40", Waist: 40", Hips: 42"